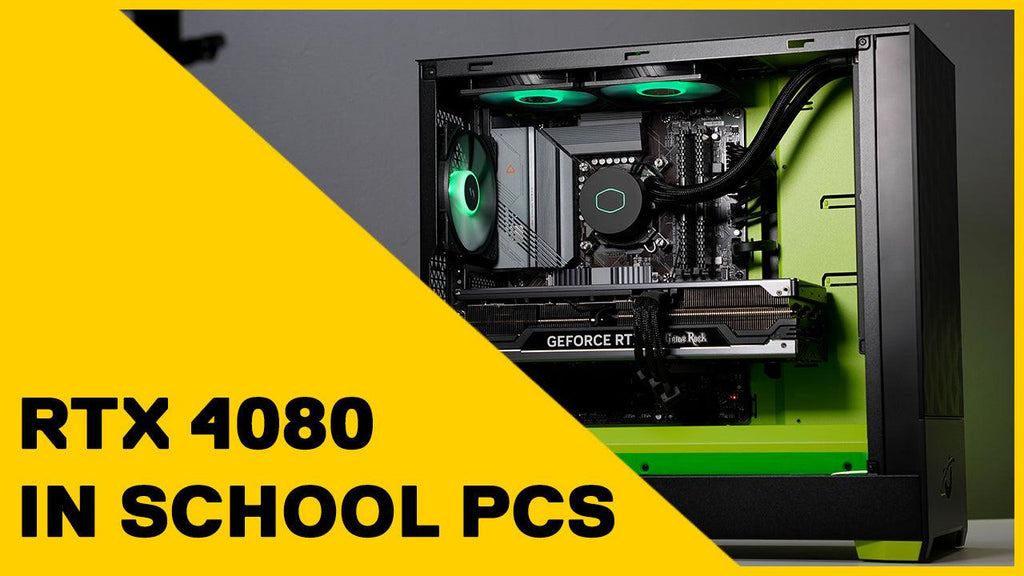 Dunoon Grammer School's BIG Push Into Esports

Ryan Brown -
Published -
After winning last year's School of the Year award (massive congratulations), Dunoon Grammar School is forward-thinking and leading the pack by being one of the first in Scotland to deliver the new esports curriculum, designed to teach students about teamwork, strategy, and critical thinking through competitive gaming. 
To support this, we had been tasked to design and provide the school with twelve of our latest Chroma gaming systems helping create a new suite in the school for the students to get the very best out of this new curriculum.
These systems have been hand-picked with some of the latest components on the market offering extremely high performance that fitted the school's budget. For the techies the specifications are as follows;
Intel Core i5 13600K @5.1GHz

32GB DDR4 3200MHz Corsair Vengeance

12GB NVIDIA RTX 4080

2TB Kingston NV2 NVMe SSD

Gigabyte B660 Gaming X AX

Fractal Design POP (Black /Green)

Coolermaster ML240 RGB AIO Liquid Cooling 

Gigabyte P850GM 

Windows 11 Professional 
Dunoon will use these systems to kick-start the brand-new esport curriculum being implemented in Scotland later this year, allowing students to engage with each like never before. For further information on why esports is a great addition to the classroom, check out my previous blog which can be found below;
https://utopiacomputers.co.uk/blogs/utopia-blogs/the-rise-of-esports-in-education-leveraging-the-power-of-gaming-to-enhance-learning 
The insanely powerful RTX 4080 on display which will be the power horse behind each PC.
Under their aptly named Dunoon Dubhs, after old Scottish folklore about the Gillie Dubhs, the Dubhs are looking to take gaming seriously, with plans to enter into the UKIE esports schools competitions and British esports association tournaments, taking on colleges and universities from across the UK. We'll be keeping a close eye on the Dubhs and will be wishing them the very best in both the classroom and the main stage!
The Dunoon Dubhs esports jersey proudly sponsored by Utopia Computers  
Like always each system went through our vigorous testing phases, completing a slue of stress tests before being fully assembled and benchmarked. We do this to ensure the highest standards of stability, no one wants a bluescreen or crash mid-game! 
Esports / Gaming is quickly becoming one of the largest sources of entertainment and often being compared the likes of Hollywood and blockbuster films. Being under the spotlight and with the potential to win big many other industries are starting to catch onto esports and the power it holds - take for example BMW, a car manufacturer partnering up with the Fnatic esports team, or McDonalds, a fast food restaurant parenting wit arguably the largest team in the world, Faze Clan. These multi-million dollar deals are a testament to the scope and potential of gaming/esports and cannot be snuffed at especially, in comparison to Hollywood, is a new and up-and-coming industry. 

CREDIT: FAZE CLAN

If you are interested in learning more about this topic or have any further questions, please feel free to contact me at ryan@utopiacomputers.co.uk. I would be happy to provide additional information and assist in any way that I can. Plus, check out our video highlighting the Dunoon Duhbs systems and why this is a big step forward in the Scottish Education system