FACE YOUR DEMONS
GET 4 GAMES WITH SELECT GEFORCE RTX 30 SERIES*
Take on deadly supernatural forces in Ghostwire: Tokyo, a demonic invasion in DOOM Eternal, and the dark lord of Hell in DOOM Eternal: The Ancient Gods enhanced with the AI-accelerated performance of NVIDIA DLSS and stunning ray tracing, powered by NVIDIA GeForce RTX 30 Series.
*For a limited time, get Ghostwire: Tokyo, DOOM Eternal, DOOM Eternal Year One Pass (Includes DOOM Eternal: The Ancient Gods Part One & Part Two and BATTLEMODE) with the purchase of a qualifying GeForce RTX 3090 Ti, 3090, 3080 Ti, 3080 desktop, laptop, or GPU. One code per person. Terms and conditions apply.
LEVEL UP YOUR GAME WITH GEFORCE RTX 30 SERIES
GHOSTWIRE: TOKYO
Explore Tango's beautifully haunted vision of Tokyo with the highest quality visuals and ray tracing. Save the city from evil spirits with the AI-enhanced power of NVIDIA DLSS, delivering up to 2X faster performance.
DOOM ETERNAL
Hell's armies have invaded Earth. Become the Slayer and stop the final destruction of humanity in DOOM Eternal, enhanced with ray tracing and the AI-power of NVIDIA DLSS for maximum performance.
DOOM ETERNAL YEAR ONE PASS
You denied the gods and awoke an ancient evil. Now rally the scattered Sentinel armies, lay siege to the last bastion of Hell, break through the fortress walls, and face the Dark Lord himself. Your war against Hell ends in DOOM Eternal: The Ancient Gods - Part One & Part Two.
SHOP NOW
Equip yourself for the most challenging gaming with GeForce
Ballista
Super-stylish, tonnes of customisation and jaw-dropping performance.
 Selection of Gaming ATX cases
 Up to AMD Ryzen 9 or Intel i9 CPUs
 Up to 128GB DDR5
 Up to 4TB NVMe SSD + 8TB HDD
Up to 24GB NVIDIA RTX 4090
Typically ships in 7 working days
 Many more configurations available
From £1073 or £39.58 p/month
Renegade
Extreme Fully Water-cooled Gaming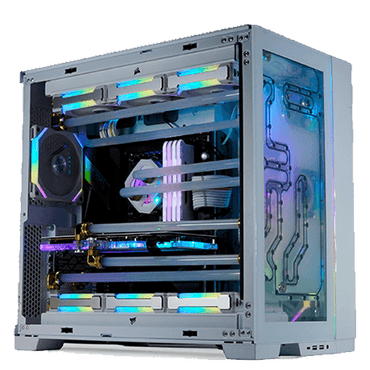 Lian-Li O11 Dynamic EVO
 Water-Cooled AMD Ryzen 9 or Intel i9 CPUs
 Up to 128GB RGB DDR5
 Up to 4TB NVMe SSD + 8TB HDD
Water-Cooled 24GB NVIDIA RTX

 4090
Typically ships in 14 working days
 Many more configurations available
From £4894 or £180.49 p/month