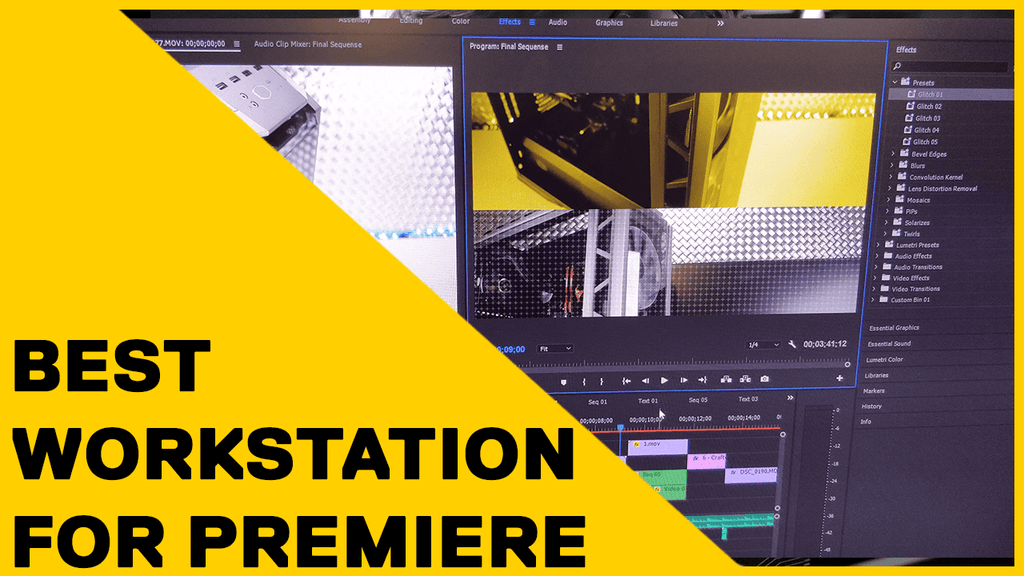 What workstation do you need for Adobe Premiere Pro CC in 2023?

Craig Hume - MD @ Utopia
Published -
Introduction
Are you tired of feeling like your editing software is slowing you down? Are you ready to take your Adobe Premiere game to the next level? Well, have no fear because we've got you covered!


Our Benchmarking process
Using real benchmarks ran on the latest hardware the team at Utopia have compiled a list of the optimum components for the ultimate Premiere workstation. Making sure you have all the info needed to build or spec the very best workstation for your workflow.
We've split this blog into five easy-to-understand parts. CPU, Graphics, RAM, Storage and Summary Conclusion. So without ado, let's crack on!


facebook.com/utopiacomputers​​
Section 1: Best CPUs for Adobe Premiere
The best CPU for Adobe Premiere
When it comes to building a workstation for Adobe Premiere Pro, the CPU is the star of the show. While GPU acceleration is important, your CPU's performance is the key factor in the overall speed of your editing process.
But here's the catch - more expensive doesn't always mean better. There's a limit to the number of cores that Premiere Pro can effectively use, so an expensive dual Xeon workstation may not be the best investment. In fact, modern CPUs with a decent number of cores will outperform a dual Xeon workstation easily and at a much lower cost. 
facebook.com/utopiacomputers​​
So, how do you choose the ideal CPU for your Premiere Pro workflow and budget? Well, it depends. If you're primarily editing H.264 and H.265 footage, we recommend the Intel Core i9 13900K. It's an amazing performer with integrated QuickSync functionality and a 6GHz turbo boost. Plus, it's priced sensibly, making it the sweet spot for a high-end video production workstation in 2023.
But, if you're working with RED footage and need an extra boost, AMD's Threadripper Pro 5975WX and 5995WX are the ones to beat. These bad boys dominate the performance benchmarks, making even 8K editing silky smooth.
facebook.com/utopiacomputers​​
And, for those on a tighter budget, we give a shoutout to the AMD Ryzen 7 7700x with a 5.4GHz turbo boost. It's a best-value buy that won't break the bank.

In short, when it comes to getting the best value, aim for a CPU with a high single-core frequency. That's the secret to unlocking the power of your Adobe Premiere Pro workstation in 2023. 


Do more CPU cores make Premiere faster?
Yeah, more cores help, but the benefits will diminish as your core count increases. With some unexpectedly poor results with dual CPU systems. 
8 cores or above is the sweet spot here, with more cores coming into play mostly when exporting footage.
Does Premiere work better with Intel or AMD CPUs?
Currently, it is super tight, with AMD winning for best average overall performance. But Intel is the king of the hill if you want the best overall chip, with the previously mentioned 13900k for top-end builds. Again, higher single-threaded performance for Adobe Premiere is what you're looking for. This will help with a whole host of tasks, including live playback, opening and saving projects, and functions like Warp Stabilisation that you probably use every time you open Premiere. If you are using Premiere, there is also a good chance you will be using Adobe's other creative applications, and they, too, will benefit from that high single-threaded performance.
Are Xeon CPUs a good choice for Premiere?
Our testing has not seen an advantage of Xeon chips for Adobe Premiere. Long-term reliability is sometimes mentioned as an advantage of Xeon. Still, given we have practically never had an Intel or AMD chip fail in recent years, we don't think that is an issue for this type of workstation.
Section 2: Best GPUs for Adobe Premiere
What GPU is best for Adobe Premiere?
facebook.com/utopiacomputers​​
Using a GPU can boost your Premiere Pro performance, but choosing the best graphics card depends on how many GPU-accelerated effects you use and how often you export to H.264/HEVC. Don't worry too much. However - for most users, there isn't a huge difference between NVIDIA GPUs, even if you're looking at older models. However, if you're using many GPU-accelerated effects or want faster export times, it's worth investing in a high-end graphics card. The GeForce RTX 4080 is a bit pricey, but it's a solid choice. And if you want the fastest option available, go for the RTX 4090 you won't be disappointed.
How much Graphics Card VRAM does Adobe Premiere need?
| | | | | |
| --- | --- | --- | --- | --- |
| Footage Resolution | 1080p | 4K | 6K | 8K+ |
| Minimum VRAM capacity | 4GB | 6GB | 8GB | 10GB+ |
Will multiple GPUs improve performance in Premiere Pro?
facebook.com/utopiacomputers​​
Quadro cards work really well under Adobe Premiere. However, their support for 10-Bit colour, higher long-term reliability and super stable drivers come at a cost. Most Adobe Premiere users will find far better value for money, sticking with Nvidia's RTX range for this type of system.
Are Quadro GPUs good for Adobe Premiere?
No, multiple GPUs will not give a performance increase that would be in proportion to the cost of the extra card. We would always advise installing one higher-performing card than two (or more) slower cards. 
facebook.com/utopiacomputers​​
Does Premiere Pro run better with NVIDIA or AMD?
Utopia has always been a huge fan of team green, Nvidia! Our benchmarks have shown no benefit to moving to AMD for Premiere, and our reliability records speak for themselves for Nvidia. With that in mind, we currently always recommend Nvidia for Premiere.
Can Premiere Pro use the new RT and Tensor cores that are on the RTX cards?
The new Tensor cores and RT cores have no advantage over Premiere. I suggest RT cores will not have any purpose in Premiere anytime soon. Tensor cores, aimed at AI and machine learning, could have future advantages, so currently, it's a case of watching this space as AI could have some amazing benefits for video editing packages like Premiere Pro in the future. With AI, editors could save time and effort by automatically selecting the best clips from a video. It could also help to remove background noise or adjust audio levels for better sound quality. And that's not all! AI could even make it easier for editors to search for specific content by identifying faces and objects in a video. Plus, it could suggest appropriate transitions, colour grading, and visual effects based on the content of the video. These are just a few examples of how AI could take video editing to the next level. We can't wait to see what other innovative and useful applications will emerge as AI technology advances - All of this being another great reason to have a top-spec system ready to cope with updates as they become available.
How do I get 10-bit HDMI support for Premiere Pro?
Go for one of Nvidia's Quadro cards for straightforward 10-bit colour support. While other devices are available, Quadro is the way to go for most workflows.
Section 3: Best Memory for Adobe Premiere
How much RAM does Adobe Premiere need?
| | | | |
| --- | --- | --- | --- |
| Footage Resolution | 1080p | 4K | 6K/8K+ |
| Minimum RAM capacity | 32GB | 64GB | 128GB |
There are some other smaller details with RAM, for example, making sure the speed of the RAM is matched to your CPU for the best performance, but this is a little out of scope for this video. Watch this space for a deep dive on RAM coming soon.
Section 4: Best Storage options for Adobe Premiere
What type of storage drive should I use for Premiere?
facebook.com/utopiacomputers​​
Mechanical drives are awesome for long-term storage, they offer vast amounts of storage for relatively little money. 
SSDs, on the other hand, are more expensive but offer huge performance gains for the money. The faster M.2 and NVMe drives in this segment are worth considering as they will help with system boot and application load time. Still, once in Premiere, they will not make a noticeable difference in performance unless you use a very high bitrate for your footage.
You have two options, mechanical HDD and solid state, SSD / M.2 / NVMe.
What storage configuration would I recommend for Adobe Premiere?
For everyday use, a single drive will do you just fine, but if you want a pro-level setup, then it would be best to think about having up to four drives.
Your first will be for Windows and Premiere itself. SSD or NVMe is what you want here. 


facebook.com/utopiacomputers​​
Second, you want a working drive for your Project Files and other Premiere files you use in your projects. SSDs are ideal for this, but if your budget allows NVMe will ensure a smooth workflow.
Next, if you are looking for the ultimate setup, you can add a third drive for a scratch cache disk. Doing this will greatly improve performance when scrubbing through your timeline.
Finally, how about some long-term archive storage? For this, we would normally suggest a mechanical drive big enough to hold your footage history. Depending on the workstation you choose, you can add multiple of these drives in RAID to further protect your work or potentially look to offload your archives to a NAS or other external storage device.
Section 5 - Conclusion on best Workstations for Adobe Premiere
facebook.com/utopiacomputers​​
So to conclude, single-threaded performance for your CPU. The higher the frequency, the better, alongside a minimum of 8 cores. Best buy i9 13900k.
You need a dedicated GPU, ideally with 6GB of VRAM or more. Star buy RTX 3070 for up to 4K, and RTX 4080 for 6K and above.
32GB of RAM for 1080p, 64GB for 4k and 128GB for 8k.
SSD or NVMe storage for your operating system and software. A secondary drive to keep all your project files and pictures on, a Third drive for a Scratch disk and a fourth drive for long-term backup.
Still, got questions? Perhaps you're wondering what motherboard you should get or what case to choose? Ask below, and I will help. Also, you can jump onto our live chat where you can chat directly with one of the Utopia team, send us an email, pick up the phone, hell you can even send a letter if that's your thing!
Related Posts