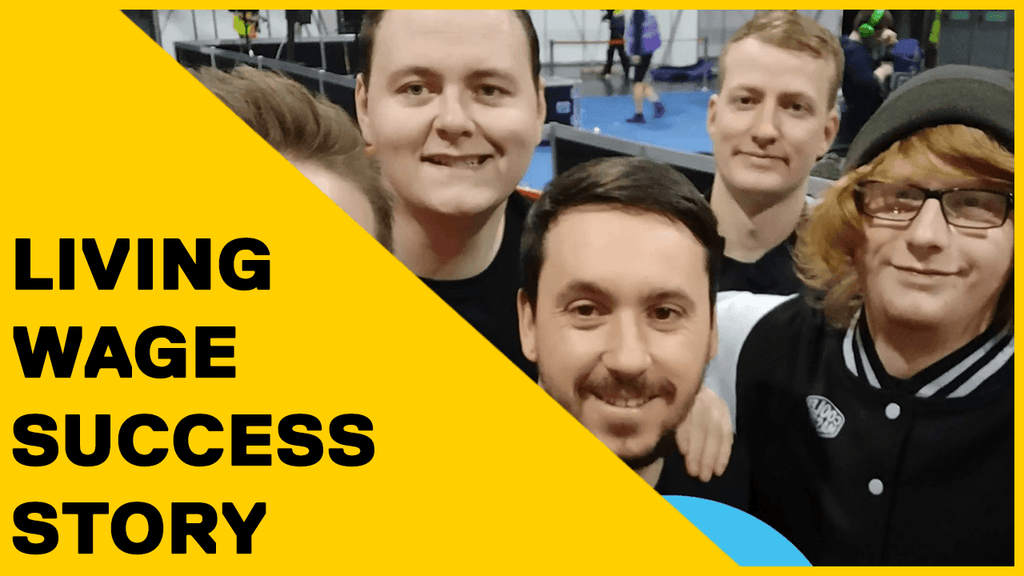 Utopia Computers: A Living Wage Success Story - How Joining the Living Wage Movement Transformed our Company, Employees and Community

Craig Hume - MD @ Utopia
Published -
Joining the Living Wage movement in 2014 was the catalyst for many great things at Utopia. 
It unlocked the potential in our young team and showed what happens when we invest in 
our people. 
Since then, the Living Wage has become embedded in our culture. Ask anyone 
in our team, and they will be able to tell you about the Living Wage and what it means to them for Utopia to be a proud Living Wage Employer.
Once we had seen the power of the Living Wage for ourselves, it became clear that we could help inspire others to do the same, so we set off to do just that by:
Becoming a member of the Living Wage Leadership Group since 2015

Speaking at Scottish and UK Parliament about the Living Wage

Speaking on TV and Radio about the success of being a Living Wage Business

Squeezing into any Podcasts that Utopia is a Living Wage business

Speaking at many business events both in Ayrshire and across the UK about Living

Wage

Joining the UK Living Wage Commission in 2018

Getting Involved in the UK Living Wage Tech Leadership Group

Helping Local Promotion of the Living Wage to local businesses and customers

Always adding the Living Wage logo to social media, emails and website

Living Wage signage on Utopia's Stores and merchandise

Encouraging our supply chain and industry peers to become Living Wage employers

Speaking at many industry events about the Living Wage difference between the Living wage makes to both employers and staff

Supporting other Living Wage businesses and helping them celebrate their success

Encouraging local councils to become Living Wage Accredited and Living Wage Places

Each Living Wage week, rolling up our sleeves and getting involved with live events, MP visits, talks and more
The team at Utopia are very proud of the positive impact Utopia has had on encouraging other local businesses and organisations to become accredited. By paying our team the Living Wage, we have directly impacted the local economy. When low-paid workers' wages are uplifted, they don't tend to pay extra into pensions or long-term savings and investments. Instead, they visit local restaurants and spend money in shops and bars. Home improvements like decorating and repairs tend to all fit into the local economy. The great thing is that every living wage business has the same impact!
We have also encouraged countless other local businesses to become accredited. Utopia was the first business in Ayrshire to join the Living Wage, and this put us in a unique position to share our story, with many other companies being interested in why we had made a move and then convinced that they should do the same once they heard just how large a positive impact it had made at Utopia.
In summary we:
Encouraged other local businesses and organisations to join the Living Wage

Demonstrated through talks, blogs, podcasts and YouTube videos the benefits of 

being a Living Wage employer

Displayed Living Wage logos proudly in physical stores and on email signatures etc

Made a difference in the lives of the employees who were uplifted

Wages fed back into the local economy in a circular manner 
Having seen the power of the living wage first-hand, it would be impossible to ignore it and not encourage others to do the same.
The Living Wage movement has done so much for Utopia. It unlocked a pathway to a better culture. Without it, we would not have grown to be the successful business we are. We would not have retained our team, and importantly, we would have never seen the full potential of the people we employed. 
It was also the catalyst for:
Exceptional employee retention - Many of the team have been with us for over ten years.

Some have gone to work elsewhere, only to come back with new skills and an 

appreciation for the importance of working for a company that looks after everyone 

in its care.

Duvet Days – 3 holidays that can be taken at the last minute allowing the team to 

grab life by the horns.

Blue Sky Afternoons – time that can be spent researching new ideas and projects 

outside of your day-to-day role

Company shares for the whole team - These shares mean that when Utopia makes a 

profit, the whole team benefit financially

0% interest loans - Help pay off any debt and make the team's money go further

Financial support and advice for everything from general bills to buying their first

house
One of Utopia's values is "To do the right thing". By this, we mean that we should be proud of our actions even when nobody is looking. As a broader point of reflection, "Doing the right thing" means giving everyone at Utopia the opportunity to succeed and be happy.
The Living Wage plays an enormous part in this, allowing everyone to have less worry about money and know they are part of an organisation that genuinely cares for them.
Utopia is proud to have been nominated for the Scottish Living Wage Champion Award 2022. This award will be handed out to an accredited employer who has shown continued commitment to the Living Wage movement through their actions and behaviors and who can demonstrate a positive impact within their local community. The whole team at Utopia would like to thank the Scottish Living Wage team and judges for the nomination and congratulate the other finalists.