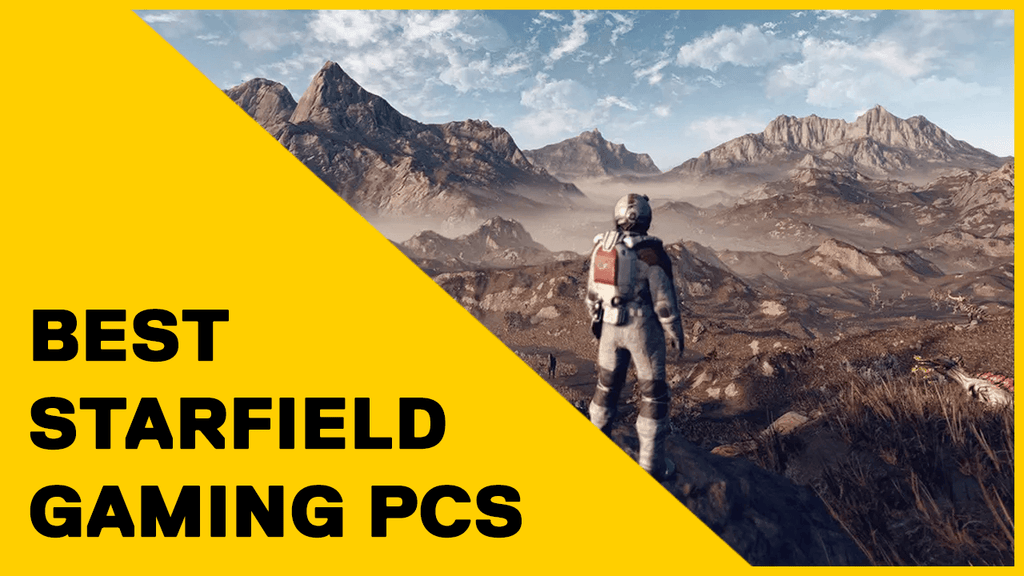 Starfield Specs & PC Requirements

Craig Hume - MD @ Utopia
Published -
Starfield Specs & PC Requirements
Starfield, an action-RPG crafted by the renowned Bethesda Game Studios — famed for masterpieces like The Elder Scrolls V: Skyrim and Fallout 4 — was launched on September 6, 2023. This marked Bethesda's debut of a fresh universe in over a quarter of a century. 
In this cutting-edge role-playing experience set in the cosmos, players can craft their unique character and traverse galaxies with unmatched autonomy, embarking on a monumental quest to uncover the profoundest enigma of mankind — and perhaps find out the actual importance of a towel in intergalactic travel.
The vastness of Starfield is evident, offering players the chance to venture across more than 1000 diverse planets. As one of Bethesda's most colossal projects to date, the game has already pushed many boundaries. For those who've delved into its universe, achieving the optimal visual treat means experiencing it at the highest settings, full resolution, and with ray tracing to accentuate its visual grandeur.
Regardless of your gaming rig's specs, Starfield provides an immersive journey. For optimising their experience, here's a guide to the ideal PC configurations for playing Starfield across various settings.
When Saturn's Rings Wanted a Selfie Too!
Minimum System Requirements for Starfield
OS: Windows 10 version 22H2 (10.0.19045)
Processor: AMD Ryzen 5 2600X, Intel Core i7-6800K
Memory: 16 GB RAM
Graphics: AMD Radeon RX 5700, NVIDIA GeForce 1070 Ti
DirectX: Version 12
Storage: 125 GB available space
Additional Notes: SSD Required
For a game as expansive as Starfield, with its myriad of planets and realms to journey through, the actual minimum requirements are surprisingly forgiving for PCs. The stipulated minimum for graphics aligns with mid-range cards from over half a decade ago. So, even if your PC has seen better days, Starfield should be playable at baseline settings, though you might have to compromise on resolution and frame rates.
Starfield does command a more substantial storage footprint, clocking in at 125GB. It's preferable to have an SSD — and we consistently advocate for integrating an SSD into your PC setup. It drastically enhances the speed and performance of your games compared to traditional hard drives.
When Space Cowboys Crash Galactic Happy Hour 🚀🍹
Can older PCs play Starfield?
If your current PC doesn't quite meet Starfield's minimum requirements or if you're yet to own a gaming PC, it might be time to consider upgrading components or even indulging in an entirely new system.
Given that Starfield's baseline specifications align with components from over half a decade ago, there's a plethora of cost-effective alternatives available to construct a PC proficient enough for the game — potentially even surpassing its demands. For instance, the NVIDIA GeForce RTX 20 series graphics cards have become more affordable since the release of the 40 Series Graphics. It's worth noting that for an immersive Starfield experience, one doesn't necessarily need to chase the latest high-end components or stretch their budget. A broad spectrum of previous-generation hardware is more than adequate for the task.
 
Recommended System Requirements for Starfield
OS: Windows 10/11 with updates
Processor: AMD Ryzen 5 3600X, Intel i5-10600K
Memory: 16 GB RAM
Graphics: AMD Radeon RX 6800 XT, NVIDIA GeForce RTX 2080
DirectX: Version 12
Network: Broadband Internet connection
Storage: 125 GB available space
Additional Notes: SSD Required
The specifications recommended for Starfield are surprisingly modest, especially considering the expansive scale and depth of the game, touted as Bethesda's most sprawling and visionary title. This encompasses its myriad worlds, profound gameplay depth, and the intricate customisation possibilities for characters and spacecraft.
For optimal graphical performance in Starfield, we suggest considering contemporary graphics cards like the NVIDIA RTX 30 series, or even venturing into the latest 40 series offerings. The cutting-edge Ray Tracing technology in GeForce RTX cards enriches your gaming with breathtakingly detailed and realistic virtual landscapes, emulating real-world light behavior.
Recent graphics card generations further bolster their prowess with advanced DLSS capabilities. With the fourth-gen Tensor Cores and Optical Flow Accelerator in the GeForce RTX 40 Series GPUs, DLSS 3 harnesses AI to generate superior quality frames — a feature that's especially impactful in the vastness of space.
For those aiming to surpass Starfield's recommended requirements, consider the latest processors that have hit the market, including the AMD Ryzen 5000 Series or the Intel 14th Generation Processors.
And yes, the emphasis on SSDs remains vital. Especially for a game as storage-intensive as Starfield, an SSD ensures a seamless and swift gameplay experience.
Last time I let an AI handle parallel parking
Will the PC I bought a few years ago play Starfield?
As highlighted previously, Starfield's recommended specifications are quite accommodating, referencing components that have been around for a few years. Investing in slightly more contemporary components can elevate your gameplay, all while maintaining a reasonable budget.
For those with older PCs aiming to experience Starfield at its recommended settings, a multitude of upgrade options are at your disposal. Whether you're looking to merely align with the stated specifications or aspire to unlock a premium gaming experience with enhanced visuals, there's ample room to optimise your system for what's already become one of the year's standout titles. Jump on live chat or give us a call and we can help with upgrade options - letting you get the best tout of Starfield.
What PC do we recommend?
The Utopia Core gaming PCs strike an optimal balance, boasting some of the latest components that truly let your favourite games shine. If you aim to align with Starfield's recommended settings, this PC is an impeccable starting point. It's equipped with the Nvidia RTX graphics card, and an AMD Ryzen 5 processor, complemented by the game's recommended 16GB of RAM and 1TB SSD storage. While some of these features exceed the game's recommended specs, we believe the Utopia Core Advanced will offer the Starfield experience you crave, and at exceptional value! 
Furthermore, as your appetite for more intensifies, the Core presents a straightforward upgrade trajectory, simplifying the transition to more formidable hardware.
Utopia Core Advanced having it's photo taken before heading to a very happy Starfield gamer
What do you need to play Starfield at 4K?
Eager to traverse outer space in crisp 4K? Prepare for some stellar specifications!
Firstly, you'll need a processor that packs a punch. We suggest current-generation chips like the Intel Core i7-13700K or the AMD Ryzen 7900X. Either choice offers a harmonious blend of power and affordability.
Maximizing your CPU's potential means investing in state-of-the-art RAM. DDR5 stands out as the latest contender. For those aspiring to transcend Starfield's recommended specs, equipping your system with 32GB of RAM is the way to go.
When it comes to graphics, aiming high ensures an unmatched Starfield experience. For those chasing unparalleled performance, NVIDIA's RTX 4090 from the freshly released 40 Series range is a prime choice. However, if your sights are set on a balance between high performance and budget-friendliness, the Nvidia RTX 4080 is a commendable alternative.
What PC do we recommend?
Looking for the ultimate Starfield-ready PC? Search no more! The Utopia Pandora Gaming PC merges the prowess of a lightning-fast AMD Ryzen 7 processor with the cutting-edge capabilities of NVIDIA's RTX 4080 graphics card, ensuring a gaming journey that's truly celestial. This setup aligns perfectly with our earlier 4K recommendations for Starfield.
This powerhouse PC showcases the NVIDIA RTX 4080 GPU, an AMD Ryzen 7 8-core processor, a hefty 64GB of DDR5 RAM, and a vast 2TB SSD storage space, ensuring swift game launches and peak performance.
https://utopiacomputers.co.uk/products/pandora-best
Conclusion
Starfield's minimum and recommended specifications offer good value for those aiming to meet the basic gameplay criteria. However, if you're keen on fully immersing yourself in Bethesda's expansive universe, it's essential to equip yourself with robust hardware. Ensure that your processor is up to the task, and if feasible, consider overclocking it for that extra performance boost! If you've been hunting for the ideal Starfield PC, it's wise to map out your build, ensuring your specifications align with your desired in-game experience.
For a comprehensive list of gaming PCs we advocate for Starfield, Click here. For those gamers who perpetually seek peak performance in their beloved titles, feel free to peruse our extensive collection of game-ready PCs. We're here to guide you in pinpointing the perfect system tailored to your gaming needs.