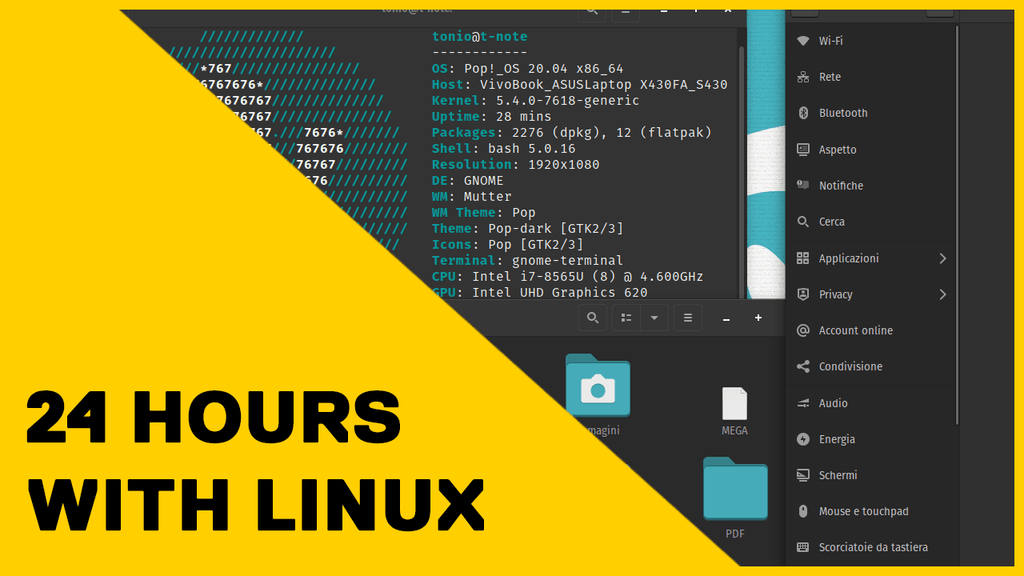 Exploring the world of Linux: A tech enthusiast's first 24 hours and why now may be the time to switch

Craig Hume - MD @ Utopia
Published -
OK, I need to share something with you. I'm a bit of a geek. What, you already knew that? Well, thanks for hanging with me regardless! The thing is that even though I have been messing around with technology for the best part of 30 years, I've never really used Linux on my own PC - please don't tell anyone! I've installed it on clients' PCs and used it from time to time on systems I was maintaining, but I've never had the urge to install it for myself. That is until last night. I was left inspired by a recent Wan show (linked below), where Linus and Luke set themselves the challenge of running Linux for a whole month on their main PCs. Could I do the same? What had changed since I had last, really used Linux? Feeling like discovering these answers and joining in with Linus and Luke I downloaded and installed Linux on my computer for the first time last night. In this blog, I'm sharing the findings of my first 24 hours with Linux and why I think, for some, now is a great time to move to Linux.
I've never really used Linux on my own PC - please don't tell anyone!
(Check out the Wan show in question here)
Before I go any further a small note for those of you who are not sure what Linux is. In short, it's an alternative operating system to Microsoft's Windows platform that is open source and free to use.
My Operating System of choice was Pop!_OS, a distro based on Ubuntu. I choose it due to its high compatibility with Nividia hardware, ease of installation, disk encryption, colourful GUI, and good creator support for tools like CUDA. Interested in trying it yourself? You can download it here: https://pop.system76.com/.
Installation
Installing Pop!_OS was crazy simple. Even my kids would have been able to muddle their way through it. With a colourful and creative interface, the operating system was installed in a handful of clicks, making Windows 10's process seem fussy and overcomplicated, and I certainly didn't miss Microsoft's Cortana talking to me!
First steps
After any operating system installation, getting your hardware working and your system running stably is key. I had braced myself for some trials and tribulations here, but there was no need. All my hardware, from GPU, ethernet, WiFi, and connected peripherals, like my webcam and microphone, all worked without me having to do anything. To this point, the installation of Pop!_OS was faster and easier than if I had installed Windows 10 - I'm impressed! It would seem that the days of messing around trying to get devices working in Linux is a thing of the past.
Full Steam ahead
Steam was the first application I tried to install, this might seem like an unusual first step, but I'm currently playing Raft with my kids and wanted to make sure I was ready to pick up the game when the next opportunity arose. The installation of Steam itself was effortless. Pop!_OS, has an app called Pop!_Shop. Think of this as an alternative to Microsoft's Store. Steam was listed on the home page, and a couple of clicks later, Steam was installed. I clicked on Raft, only to find out that it currently only supports Windows OS. Thankfully the internet is a wealth of support, and I could see that Steam has a tool called SteamPlay, which allows games to be played on Linux via a modified version of WINE, known as Proton. It sounds more complicated than is, think of SteamPlay as a translation tool for Windows system calls that allows Linux to understand what a game needs. After another couple of clicks, Raft was installed and running. So far, so good.
Google Chrome and LastPass
Next up, I installed Chrome. I'm a heavy Google workspaces user and was pleased to find that the installation was easy as pie. I visited the Chrome website using the preinstalled Firefox browser and downloaded the installation package. Once installed, I logged into my Google account, and within a few moments, all my browsing history, links, and extensions were working. Including LastPass, which I use as my password manager. I was then able to access all my web apps, like Shopify, Zendesk etc...at this point I caught myself wondering why it has taken me so long to try Linux on my home PC!
Adobe Creative Cloud
I'm a big fan of Adobe's creativity suite. Having used it since University (though I have to admit back then it was separate apps rather than being referred to as a suite), it's since become an integral part of my work. From drafting plans for web design, editing photos for social media, and creating videos for Utopia's YouTube channel. Having had such an easy run so far, I think I had lured myself into a false sense of security. I had assumed that similar to Chrome, I'd be downloading an installer and, within a few moments, be watching Adobe's icons appear in my launcher. Sadly, this was not the case. It turns out that Adobe offers no support for Linux. I'll be honest I was a little perplexed, how could I have missed that such an important set of applications had no support on Linux for all these years?
I searched online and came across some workarounds using a tool called PlayOnLinux. These instructions illustrated limited support for older versions of Abode's applications, but not the latest Adobe CC suite. Try as I might, I could get no further than the install launcher. Once I had entered my login details, the connection to the Adobe server seemed to get lost, with Adobe asking me to check my Firewall. OK, I'll park this one for now I thought, but I knew that if I could not get these working it would be a total deal-breaker for my future with Linux.
Microsoft Office
While I mentioned I use Goggle workspaces for almost all my office productivity, I still need to use Excel or Word. Digressing slightly, I'm not a Powerpoint user, I moved over to Beautiful.ai several months ago and have never looked back. Sadly, it was only a few more moments before I found out that Microsoft Office currently doesn't support Linux. Online there are plenty of tutorials showing older versions working, but my 2019 version is a no-go. It's worth highlighting that Libre office comes pre-installed so it's not that you can't open an Office document, it's just that you don't get the features that come with a full-fat Microsoft Office. I know many people say that Libre is just as good, but I've often found features of formatting that don't port over a little frustrating. There is, of course, the online version of Office 365, but again I don't find this to be as intuitive to use.
My first 24 hours
I'm pleased that I took the steps to give Linux another try. Changing away from Adobe and Office isn't something of interest to me. The benefits Linux brings doesn't outweigh the hurdles of learning new ways of completing my workflow. However, as I write this, I'm still running Pop!_OS and will probably keep it installed until I need to use my Adobe apps.
Those of you paying attention will note that at the start of this blog I suggested that now was a good time for some users to move to Linux. So, if not me, then who was I meaning?
Users looking for the best in security and privacy
Creative users who can take advantage of the extra performance Linux optimised applications like Blender can offer
Users looking to save money on the cost of a software licence
Users who like to learn about new technology
Users with older systems looking to extend its lifespan
I'm keen to watch how Linus and Luke get on with their exploration of Linux life. I'd suggest it's going to be full of compromise and trying alternative applications to what they are used to.
What are your thoughts on Linux? Do you think I gave in too soon? I'd love to hear your thoughts and I close with saying that for the first time in many years I'm very close to suggesting that Utopia starts to openly offer support Linux on it's workstations at the time of purchase, a thought that makes me quite excited.