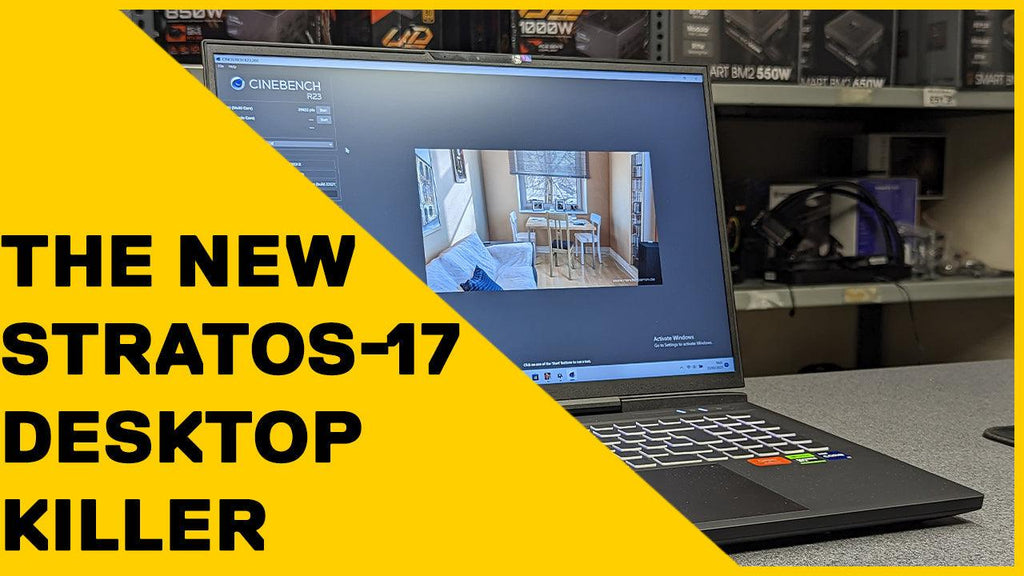 Experience Unmatched Power with Stratos-17 Custom Laptop

Ryan Brown -
Published -
Finally, we welcome back the Stratos-17!
It's been a while, but it's come back with a bang, rightfully claiming it's throne as the ultimate power laptop. Many years have passed since we've seen a laptop with the Stratos label that could deliver the kind of power that we're used to, but this latest version blows everything else out of the water....
From UtopiaComputer's workshop​​
Powered by the Intel 13th Generation and NVIDIA 40 series, the Stratos-17 delivers some of the most impressive benchmark scores we've ever seen on a laptop. It even outperforms the most recent high-performance desktop equivalents!
Under the hood, you'll find the Intel Core i9 13900HX, a 24-core, 32-thread chip that boosts up to 5.2Ghz and delivers unparalleled performance. It even trades blows with the 32-core £1,700 AMD Threadripper 2990WX! And let's not forget about the 16GB NVIDIA RTX 4090, which puts up a good fight against a desktop RTX 3090 in certain applications. That's right, this laptop can compete with a fully-fledged desktop PC that would have cost well over £5,000 when new. With 64GB of DDR5 memory and up to 8TB of PCIe Gen 4 NVMe SSD storage completing the already insane spec list, this laptop is a true powerhouse that can handle anything you throw at it, whether it's video editing, gaming, or graphic design.

At the left hand side we have a Kensington Lock, 1x USB 3.2 Type A and the Audio Input and Output jacks for your microphones, speakers and or headset. The Stratos'  audio is powered with Nahimic by Steelseries offering crisp and accurate sound for gamers and audiophiles.
On the righthand side we have the 3 in 1 Card reader and a pair of USB 3.2 Type A ports 
The Stratos-17 also boasts a 17-inch QHD (2560x1600), IPS, 240Hz, 100% sRGB display that is a gamer and content creator's dream. The fast response time and accurate colours, backed with NVIDIA G-Sync for ultra-smoothness, make it a joy to use. And at only 2.6KG, it's easy to take on the go plus, the efficient 99WH long-life battery ensures that you can stay productive throughout the day. The Stratos-17 also comes with a multizone backlit keyboard and rear illumination accents that allow you to customize the laptop to suit your mood. 
And here's the kicker – it can be water-cooled! This is a Utopia first, and we're expecting it to catapult the performance of the laptop even further. This revolutional device allows users to quickly connect essentially a desktop all-in-one liquid cooler into the laptop which will drastically change the laptops thermal performance. We are expecting big things with this and can't wait to get our hands on the Cryo-G liquid cooling unit to re-run all the tests. But in the meantime, we have gathered a few familiar benchmarks that you can use to compare against your current machine. 
SUPERPOSITON (Medium Preset-1080p)
RTX 4080 - 30,808
RTX 4090 - 38,114
 3DMark Firesrike 
RTX 4080 - 32,443
RTX 4090 - 33,768
 3DMark TimeSpy (RTX)
RTX 4080  - 18,082
RTX 4090 - 19,659
 Cinebench R23
Multi Core - 29,822
Single Core - 2720
Please note are using a beta NVIDIA GPU driver therefore we noticed the score on 3D Mark to be relatively close. Once we have the latest driver and liquid cooling unit we will rerun these tests

At the rear we can see the two liquid cooling input and output ports, as well as a USB 3.2 Type C, HDMI, Ethernet and power connection port. 
 Conclusion
In conclusion, the Stratos-17 is an exceptional machine that showcases the remarkable progress of technology. Its outstanding performance and customizability make it a top contender for any PC enthusiast, content creator or gamer in need of a portable workstation. With the ability to dominate in a desktop world that was once unimaginable, it's evident that the pace of innovation in the tech industry continues to accelerate, and the death of Moore's law is apparent in this regard. The Stratos-17 is available at an affordable price point with configurations such as the RTX 4060, but for those seeking the absolute best performance, the RTX 4090 stands tall and is likely to hold its top spot in the laptop space for years to come.
The Stratos-17 is available now and can be purchased at https://utopiacomputers.co.uk/pages/stratos-17 
Specifications of system used
Intel Core i9 13900HX @ 5.4GHz
64GB Corsair Vengeance DDR5 4800Hz
Kingston NV2 2TB PCIe 4.0 NVMe SSD
Both NVIDIA RTX 4080 and RTX 4090 Graphics Card
Benchmarks used
Cinebench R32 (FREE) - https://www.maxon.net/en/downloads/cinebench-r23-downloads 
Superposition (FREE) - https://benchmark.unigine.com/superposition 
Octane Bench (FREE) - https://render.otoy.com/octanebench/ 
3D Mark (PAID) - https://store.steampowered.com/app/223850/3DMark/  
---
2 comments
---