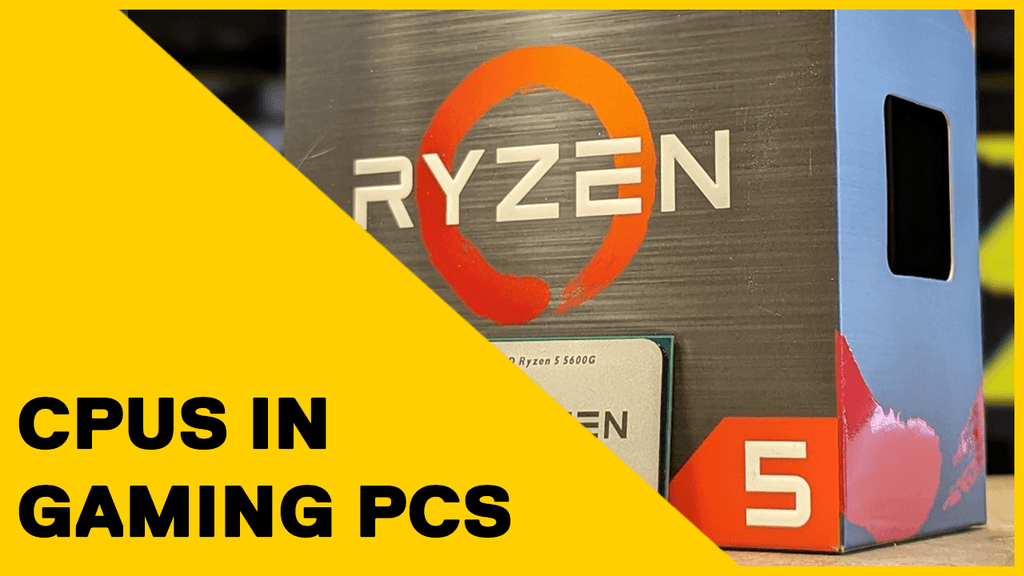 A Beginner's Guide to Understanding CPUs in Gaming PCs

Craig Hume - MD @ Utopia
Published -
Introduction to CPUs for Gaming PCs
When choosing a CPU for a gaming PC, look for a high clock speed and multiple cores. Also consider motherboard compatibility and the GPU you plan to pair it with. High-end options from Intel or AMD, such as the Intel Core i9 or AMD Ryzen 9 series, are the go to for demanding games. Read on to learn how to pick the ideal CPU for your budget.
Awesome Gaming PCs have one thing in common, a great CPU
When first thinking about buying a Gaming PC understanding all the technical terms can be a little daunting. Luckly we are on hand to help with this series of blogs designed to get beginners up to speed and comfortable with the jargon so they can be sure they are buying the perfect PC for them. Today we are diving into the CPU (Central Processing Unit), also known as the processor. So, what exactly is a CPU, and why is it crucial to choose the right one for your PC build? Let's do this!
What does your CPU actually do?
 An Intel i7-13700K waiting for it's cooler to be fitted
The CPU is the brain of your PC build. It is responsible for performing tasks, making complex calculations, arithmetic, logic, and more. It receives data from components like RAM and carries out the instructions it receives. It also directs other components, such as the GPU, on what to do. For example, the GPU powers your display, but the CPU must instruct it on what to display on your monitor. This also applies to other components, such as the SSD, in which the CPU performs calculations to move, write, or read files. Want to know more about SSDs and storage? Check out our latest blog post on Storage here. When designing your first PC, consider what you will use it for. You will need some serious power if it's the latest, most demanding games, like Resident Evil Village and Ride 4,  connected to a gorgeous 4K monitor. If you plan on playing more modest games, like Minecraft and Fortnite, connected to an entry-level monitor, your needs will be much less.  Now you know what you will use your computer for, the next step is to choose a suitable CPU and GPU first, as these will determine the rest of your budget and the type of system you are designing. You can consider a mid-range or budget processor if you want to play games at 1080p High Settings. But, a Ryzen 9 or Intel Core i9 might be a better choice if you are a video editor or dealing with intensive rendering work.
Is an APU also a CPU?
 Utopia's trusty test bench AMD Ryzen 5600G CPU
Another term you might come across is APU. An CPU is a CPU with a powerful integrated graphics chip. These chips allow gamers to play non-demanding games at 1080p. APUs have been a popular option in recent years, especially with the high prices of GPUs. However, the graphical performance of these chips isn't great, so you need to set your expectations accordingly.
Red pill or Blue pill - The choice of CPU brands is limited to two
One thing that is easy when considering a CPU is the choice of brands. The desktop CPU market has only two options, Intel and AMD. In recent years, AMD has gained significant market share and improved its processor performance with the launch of AMD Ryzen, putting more pressure on Intel. Intel has responded with their 13th Generation lineup, maintaining its top performance.
So what CPU should I choose?
The choice of setup for your gaming rig largely depends on the specifications of the components you plan to include. The performance of a gaming system primarily depends on the processing capabilities of the CPU and GPU, but the rest of the components should complement the overall power of the build. For instance, if you opt for an i5 13600K and a 3060Ti, we suggest pairing them with either 16GB or 32GB of RAM and ensuring adequate cooling to maintain optimal performance. As well as thinking about items like storage, case choice etc...

We have prepared a table below that offers recommendations for different gaming configurations based on the CPU. These are our recommendations, and the best CPU for your build may vary depending on the other components you have chosen. We have also added in reference to our own line of Desktops, as we know some of our customers like this kind of written help when choosing what PC would be best for them.
Utopia's Intel Top Picks for your next Gaming PC
| | | |
| --- | --- | --- |
|   | | |
| Intel Core i3 13100F | Intel Core i5 13600K | Intel Core i9 13900K |
| The Intel Core i3-13100F is a desktop processor with 4 cores, launched in January 2023. It is part of the Core i3 lineup, using the Raptor Lake architecture with Socket 1700. Despite being an i3 it is very powerful and provides plenty of features that come with 12th Gen CPUs, such as Gen4 PCI-£ M.2 support, PCI-E 5.0 for GPUs and more! | The i5 13600K comes with a total of 14 cores, which consists of 6 P-cores and 8 E-cores, and has a total of 20 threads. The P-Cores have a base clock of 3.5GHz and a boost clock of 5.1GHz. The eight E-cores max out at 3.9GHz. A great choice for a mid-spec PC. | The Intel Core i9-13900K is a desktop processor with 24 cores, launched in September 2022. It is part of the Core i9 lineup, using the Raptor Lake architecture with Socket 1700. Thanks to Intel Hyper-Threading the core-count is effectively doubled, to 32 threads. A true high end CPU. |
Utopia's AMD Top Picks for your next Gaming PC
| | | |
| --- | --- | --- |
|   | | |
| AMD Ryzen 3 3300X | AMD Ryzen 5 5600 | AMD Ryzen 9 7950X |
| Designed for gaming and multitasking, the Ryzen 3 3300X Quad-Core AM4 Processor from AMD has a base clock speed of 3.8 GHz, a maximum turbo frequency of 4.3 GHz. | A mid range gaming and productivity champ, this desktop processor that comes with 6 CPU cores, 12 threads, and a base clock speed of 3.5GHz and a maximum turbo frequency of 4.4 GHz. | The king of the hill when it comes to desktop AMD CPUs. Coming with 12 cores, that effectively run as 24 with some clever tech. A base clock speed of 4.7Gz and a turbo boost of 5.6Gz.  |