Configure & Buy
Take advantage of our awesome limited-time promotions before they`re gone! All FREE Promotions will be automatically added to the basket at checkout.
Our team have handpicked cases which offer the best in expandability, cooling and noise reduction for each of our systems. Now it's just down to you to pick the colour and exact model you prefer.
The brain of your PC, determining system speed and ability to run various applications and games. A CPU's frequency, the number of cores, threads, and its features will affect how efficient your PC will be at performing tasks simultaneously. Pairing a high-end graphics card with a low-end processor (or vice versa) can limit your system's total performance in the majority of applications and games. Not sure what to choose? Give our team a shout and we will help.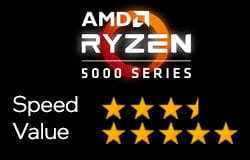 Thermal compound sits between your processor and cooler to transfer heat more efficiently, keeping your processor as cool as possible during operation. We recommend choosing an upgraded thermal compound as they transfer heat faster, and for longer.
Your processor requires sufficient cooling to operate at its peak performance. All of the cooling options below have been thoroughly tested to maintain or exceed industry-standard cooling levels for your processor selection. Upgrading your cooling can prolong processor lifespan, increase performance through overclocking (if available), and add to the aesthetics of your system.
Your motherboard connects all of the components of your computer. Motherboards vary in features they offer, including audio options, USB connectivity, storage options, networking, Wi-Fi, RGB features, aesthetics, and other technologies. The following motherboards are compatible with your processor selection.
Memory allows your PC to perform tasks in real-time. There are two factors in choosing memory: capacity, and speed. Memory capacity will have the largest impact on your computer's ability to perform multiple tasks at once, whereas speed will affect its ability to execute individual tasks effectively. Memory is available in both RGB and non-RGB variants. The following memory options are compatible with your motherboard selection.
Your system requires at least one drive. The team at Utopia recommend M.2 NVMe SSDs, as they are extremely fast modern storage solutions that can dramatically reduce loading times in applications and games. TOP TIP: We will install Windows on this drive unless told otherwise.
Add in some optional secondary storage that is ideal for storing projects and running games from.
HDDs are slower than SSDs but are available in larger capacities with increased long-term durability. HDDs are best suited for media storage, such as photos, videos, and other documents. HDDs are not recommended for installing games or other applications.
Your graphics card will have the largest effect on gaming performance, including frame rate, visual fidelity, and effects. Choosing the right graphics card for your system depends on multiple factors including your monitor's resolution and refresh rate, budget, desired features, and the games you play. If you plan on using your system for creative applications like 3D Rendering and Adobe, then getting the best card for your workflow is key.
Need to be able to connect your computer to the Internet without an ethernet cable? Then choose one of these WiFi cards. In short, the more expensive the card, the better signal from your router. Keep in mind, Utopia always recommended connecting via an ethernet cable for the most reliable and fast connection possible.
Your power supply is responsible for providing clean, regulated power to all of your components. The following power supplies will provide the recommended power output for your configuration and have passed our strict quality assurance testing. Power supplies are rated by their maximum wattage threshold and typically run smoother and quieter when given additional headroom above the wattage requirement of the PC.
Chose your operating system. While both Windows Home and Pro versions are available, the Pro version of Windows offers additional features such as BitLocker encryption, Remote Desktop, and other valuable tools.
We offer worldwide remote support so that if you run into problems when gaming or using your system for work, one of our engineers can remotely log in and help you get back up and running.
Next-level system protection - Transit Armour. We recommend choosing our specially designed Transit Armour to keep your system ultra-safe and secure during transit.
Need your system in a rush? Choose VIP Fast Track Delivery for a priority build and delivery time.